K'ass-a-K'so Ko School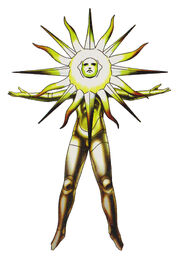 K'ass-a-K'so Ko School is the (high?) school Antique Table attended school. K'ass-a-K'so Ko School is located in Hothole, the same place Devin Meroslouch emerged from. K'ass-a-K'so Ko School is full of delinquents who like to punch with their fists and legs, and they tend to do this to other people in the school, such as delinquents.
Inti is the principal of the school. His only duty is to stand atop the school's facade and let his magnificent sun rays cascade upon the school population. A common delinquent activity is to throw k'so at him, but most of it burns up before it reaches Inti. Inti is a close friend of Duke Von Gaibon, and it is rumored that the two used to partake in cheery teamwork until Inti found his Sun — a glowing, over-sized maggot.
Maggots are the mascot of the school, and the bug-oriented culture has led to several school gangs naming themselves after insects, such as the Antsy-Pantsy Ants, TerminatorTermites™, and Black Hellspider Motorcycle Motley. Besides bugs, most students tend to indulge in demonology, and love to summon demons. This makes K'ass-a-K'so school one of the bloodiest on the planet, a quality the student body holds dearly. Although the school is one of the few that holds Demon Negotiation Courses, such courses are fairly useless, since most demons are pleased with bullshit answers.
There are fringe gangs outside of these two interests, such as the Whammers who bombard the halls with some of the worst music in the world. No one understands their purpose, for they do not fit into the mold of dingle-adoring, bug-caressing demon-lovers.
The school's interior was designed by an intern of MazeWorks Inc. As such, the layout is incredibly labyrinthine, and incredibly boring. Most students die of boredom after getting lost in its thousand-halled halls. The archaic design of the building also leads to students accidentally opening up portals to Hell. Most of the hallways are nearly identical. There are also one-way doors and a large number of pits. Some students circle the same area for days.
K'ass-a-K'so Ko School is partnered with many other high schools in the Land of Taiyou, and students regularly work with foreign students to construct phallic sculptures.
page revision: 12, last edited: 22 Jun 2018 15:27